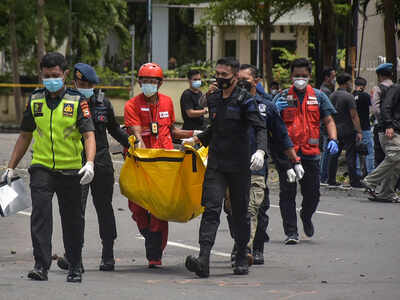 Two suicide bombers have detonated outside a Catholic church in the Indonesian city of Makassar, wounding at least 14 people on the first day of the Easter Holy Week.
Police said a church security guard tried to prevent the motorcycle from entering the compound when the blast occurred.
The police are investigating the explosion as a suspected suicide bombing.
An explosion occurred outside a cathedral in the Indonesian city of Makassar on Sunday, local media reported, in what a priest described as a suicide attack.
A destroyed motorbike and body parts were found at the scene and police said the two attackers had died.
At least 20 people were wounded in the attack and had been admitted to hospitals for treatment, said Mohammad Mahfud, the coordinating minister for political, legal and security affairs.
"I ask the public to remain calm in carrying out their worship" Widodo said adding, "Terrorism is a crime against humanity and has nothing to do with any religion".
Is the ship still stuck in the Suez Canal?
The canal extends from the northern terminus of Port Said to the southern terminus of Port Tewfik at the city of Suez. Readers emailed Snopes, reporting that viral social media posts alleged Elselehdar was the Ever Given's captain.
Fourteen people were hurt in the blast, Argo Yuwono, a police spokesman said.
Indonesian forensic police examine the site after a suspected bomb exploded near a church in Makassar.
Ansyaad Mbai, former chief of the National Counterterrorism Agency, said the perpetrators were likely part of the same group responsible for a bombing in Jolo, the Philippines, in 2020.
Pope Francis also invited prayers for the victims of Sunday's violence at the end of Palm Sunday Mass in St. Peter's Basilica, which opened Holy Week ceremonies at the Vatican.
In subsequent years, security forces in Indonesia, the world's biggest Muslim-majority country, scored some major successes in tackling militancy.
Sunday's attack follows the arrest in recent months of dozens of militants suspected of planning terror attacks, according to Indonesia's counter-terror squad.
The attacks were carried out by a family of six, including two daughters aged 12 and 9, who were reportedly Islamic State sympathisizers and had recently returned from Syria. A new threat has emerged in recent years inspired by the Islamic State group's attacks overseas.